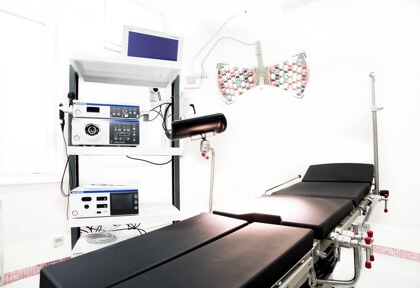 Our clinic has an operating room and comfortable inpatient department.
The equipment of the operating room allows carrying out a wide range of surgical interventions - from ordinary nevus removal to laparoscopic operations.
The operating room is fitted with modern endoscopic equipment from the world-famous brand "Olympus", the latest anesthesia machines and devices for monitoring the patient's vital statistics.
To carry out operations, we use mainly disposable instruments and supplies. This minimizes the risk of infections and postoperative complications. The clinic has a separate equipped room intended for complete sterilization of all reusable instruments.
Our surgeons, urologists, gynecologists, proctologists, oncologists – are highly skilled specialists with long-term experience, who are proficient in all modern technologies and methods. We give preference to high-tech, minimally invasive and "bloodless" surgeries in accordance with the modern international standards. It reduces significantly both the period of staying in the in-patient department and the postoperative recovery. Herewith the surgical wounds are minimal, surgical scars are scarcely visible. The patient returns to the habitual way of life very quickly – often not later than in 2 or 3 days.
For example, the postoperative recovery after removal of prostatic adenoma, using a classical method takes 3 or even 4 weeks. When performing transurethral resection of prostatic adenoma, using a special bipolar loop, the patient leaves the hospital on the second, and sometimes on the first day after surgery, and becomes fully able to work already on the 7th day.
The specialists of "French Clinic" guarantee you a truly individual approach and complex follow-up support. Our surgeons work for the benefit of our patients – and they do it at the highest level.